Alibaba PPC campaign guide: How to win the bidding war
As the first few advertisers that have been playing with Alibaba PPC(It is named Alibaba Wangxiaobao or 网销宝 in Chinese) since Alibaba PPC is introduced in March 2009, I have predicted that with companies getting familiar with the bidding system, the bid price will rapidly reach 10RMB/click.
However, things are developing much faster than what I estimated. Within short period of time, the bidding price for some low value product like floor mat has reached 23RMB/click, and advertisers are still happy to match the increased bidding price of their competitors every week.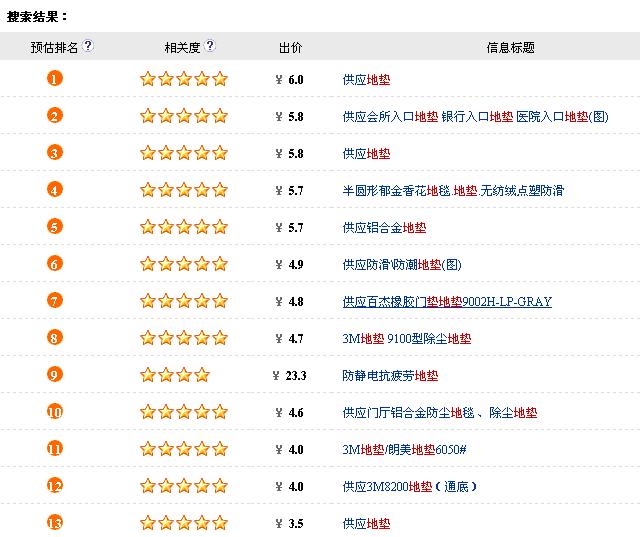 The ranking algorism of Alibaba PPC
As we can see in the picture, top bidder (23.3RMB/click) only rank 9th spot, second highest bidder(8.8RMB/click) ranks 14th spot. The bidding price of Top ranking is 6.0RMB. How can that be?
Relevance score is the dominant factor for high ranking on Alibaba PPC
If we compare the under-performed bidders with other bidders, we can find they only have 4 stars in terms of relevancy score, while other 12 competitors have 5 stars. I have called Alibaba for an explanation of their ranking system, here is what they said:
Relevance and bidding price affect the ranking results of Alibaba Wangxiaobao. High relevant ad ranks higher than low relevant ad. High bidding price outrank low bidding price if the relevance score is the same.
I basically agree with that, but I have found that statement is not 100% true. According to their statement, the top bidder(23.3RMB/click) should rank No. 13 instead of No.9, followed by the second highest bidder on 14th spot(who is also 4 stars in relevance). So we can tell if your bidding price is far more than the bidding price of competitors that have higher relevance scores, you can still rank high(even top), though that is not economical at all.
So what affect the relevance sores?  Here is the official reply on Alibaba academy:
1)Keywords must appear in the title
2)Title is optimized(for example lengthy and low relevant title will considered low quality)
3)Your product is categorized correctly
4)High resolution product picture
5)Detailed product description, product description should be in conformity with the title
6)Detailed product specification and parameter
Related posts