How to set up Alibaba trustpass(Chengxintong) account
Alibaba is arguably the best Chinese online B2B trade portal, I would say that it is the only Chinese trade platform that worth your investment of a few thousand membership fee.
I have predicted that the pay per click bidding price will soon exceed 10RMB/click, which has come true. I have basically explained the algorithm of Alibaba organic ranking and I also talked about the PPC ad ranking. In this article, I will generally introduce Alibaba Chengxintong(诚信通, Chinese version trustpass – Not trustpass membership of Alibaba international version), the function, the fees and payment, your alibaba store setting up, etc.
The process of setting up Alibaba Chinese trustpass account:
Step 1. Registration
Go to China.alibaba.com, click free registration on the top left, fill in the following forms: Go to your email address to check the activation email from alibaba, and then activate your alibaba account.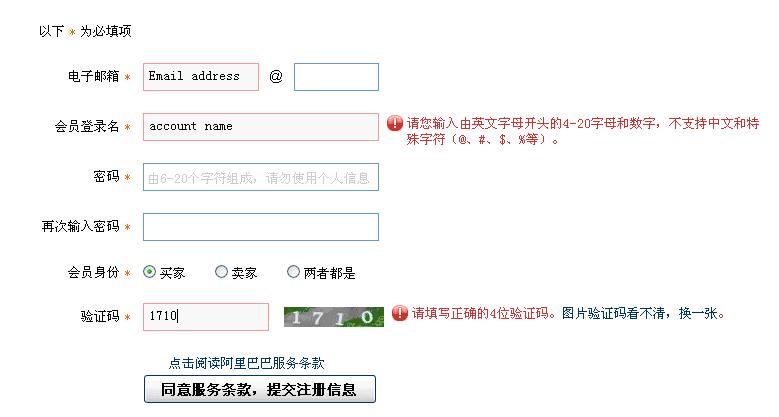 Step 2 Contract finalization
Call 400-809-5188, Alibaba sales representative will call back to introduce their trustpass package. They will send a standard form contract for you to sign. After contract is signed and payment is made, your account will be opened up within 1 to 2 business days.
The traditional Chinese trustpass membership fee is 2800RMB, since March 2010, Alibaba has introduced new trustpass membership plan. The fee is lowered to 1688RMB, for basic version. The new trustpass members will rank after the traditional trustpass members in search ranking on alibaba. New members will have to use Wangxiaobao service(Alibaba PPC) to outrank old members.

You can choose enterprise trustpass membership and individual trustpass membership. If you have a company title to use, I would strongly recommend to choose enterprise trustpass version, the reason is simple: people trust company, not individual.
Step 3 Open store on alibaba
After your account is approved, you will need to complete your company profile, fill in all the fields on your company profile to make it looks professional. Add business scope and products carefully, because those keywords help to improve your ranking when buyers are searching by company(not by product). Upload high definition photos of your business license, tax license and other certificate, which can not only increase the creditability of your business, but also your credit points. High credit points can help to get higher ranking when buyers are using search by company.
After that, you will need to upload your products, use clear photos and detailed specification, fill in all fields, use defaulted category recommended by Alibaba system. You will get a high quality score if you follow the abovementioned product uploading guide. As we have explained when you used Alibaba PPC(wangxiaobao) service, ranking will be associated with quality score of your sell lead.
I will suggest to bid for top 3 ranking for major keywords on alibaba, it really worth it. You have to make sure that the keyword you are bidding appears in the title of your sell lead.
Related posts