China Luxury Market Report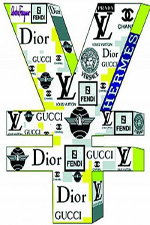 In recent years, luxury consumption in China has been enjoying a rapid increase. The aim of this paper is to make an in-depth analysis of the consumption features on luxury market in China, and then, based on these analyses, to come up with some ideas that will shed lights on the marketing activities for luxury brands that try to enter Chinese market.
1. The Current Situation of Chinese Luxury Brands Market
The global financial crisis which broke out in 2008 has led to a slump in the global luxury market in 2009. However, Chinese consumer's enthusiasm for luxury goods are increasing rather than decreasing. According to the statistics of World Luxury Association, by the end of 2009, China's consumption of luxury goods totaled $ 9.4 billion, accounting for 27.5%in global sales of luxury goods. China has surpassed the United States and become the world's second largest consumer of luxury goods, second only to Japan. And In the next five years, China's luxury goods consumption will reach $ 14.6 billion, making it the world's biggest luxury consumer.
The rapid expansion of China's luxury market has greatly stimulated the luxury companies' desire to broaden their market. According to the statistics by Husband Retail Consulting, by the end of 2009, more than 80% of the world renowned top luxury brands have entered the Chinese market. Meanwhile, the pace of world's luxury companies' localization into China is accelerating. Before, in order to enter Chinese market, these companies often adopts marketing strategies consist of three basic steps: The first stage is to open a flagship store in a central city to test the market's reflection to their products. The second stage is to make targeted advertising to potential target customer groups. And the third stage is to make strategic marketing layout and product promotion on a large-scale. But now, many luxury goods manufacturers have adjusted their strategy in the Chinese market. They adopt the three approaches at the same time so as to speed up the pace of entering Chinese market and expanding their business there.
But another fact is that in 2009 China's per capita GDP is only $ 3,000, ranking only the 106th in the world. However, in a country whose per capita GDP ranked outside 100th in the world, the consumption of luxury goods ranks among the world's leading ones , this obvious contrast has attracted the concern of researchers and professionals in luxury industry. And meanwhile it indicates that China's luxury market indeed has its unique characteristics.
2. Analysis of Consumption Characteristics of Chinese Luxury Market
2.1 The Complex Consumer Structure in the Chinese Luxury Market
According to the "2010 Rupert Hoogewerf Fortune Report," the number of millionaires in Mainland China had reached 87.5 million, of which 5.5 million were billionaires, making China the world's fourth richest country.
This data show that at present, a considerable number of people in China have already had the purchasing power of the world's top luxury product. But compared with other markets, luxury market in China has a very distinctive phenomenon, i.e. only 30% of the luxury goods consumption has been made by people with great personal wealth, the remaining 70% was all made by white-collar workers whose annual income ranging from hundreds of thousands to as low as dozens of thousands. For the latter group, they often have to spend several months' salary to buy a luxury product. They are a group of luxury consumers who live frugally.
In China, the luxury consumer group mainly consists of high-end consumers whose personal annual income amounts to more than ten million or even several million yuan, and white-collar workers whose personal annual income is only several hundreds or dozens of thousands yuan. In the latter group, there are nouveaux riches, professional managers, as well as the fashionable young people. These people varies greatly in matters of age, social status, income gap, interests and hobbies, In short, China's luxury consumer group is a complex one constituted by people from a great range of social classes.
2.2 China's Luxury Consumption Has Distinctive Product-Driven Features
Most Chinese consumers in foreign countries would do shopping mainly in the world's top luxury brand stores like PRADA and GUCCI. During the 2010 Spring Festival, over 1,000 Chinese tourists has spent more than 30 million yuan on luxury products in New York City. According to the statistics of Tourism Bureau of NYC, 95% of the activities made by Chinese tourists in New York are shopping. All these have shown that Chinese consumers are generally focused on buying luxury products, in which tangible luxury products are their major consumption target.
In as early as 2005, Ernst & Young had already noted in a research report on luxury market in China that compared with Chinese consumers' preference for specific products, consumers in mature markets tend to pay more attention to the exclusive consumer experience beside the purchasing of the actual luxury products, such as expensive holiday trips or a variety of high value-added services. Although currently Chinese consumer's demand for luxury goods has been rapidly increasing, but their preferences for luxury products are drastically different with those of the consumers in mature markets.
When buying luxury products, Chinese consumers also attach great importance to the products' brands, the manufacturer and country of origin. To them, these factors seems to be more important than the product itself.
2.3 Luxury Products Consumption in China Shows Signs of Differentiation
When luxury products make their debut in Chinese market, what the people were buying were mostly entry-level luxury like watches, jewelries, and bags. With the maturing of Chinese people's consumer psychology and the improvements of consumer awareness, consumption of luxury products in China shows signs of differentiation.
Some of the consumers, especially those who possess great personal wealth, take up an increasingly rational and mature attitude toward luxury consumption. . This consumer group has stronger economic strength, and was relatively older in age and higher in social status. When choosing luxury products, they would give more consideration to the brand's culture background, design and other factors. And they tends to focus on purchasing more expensive products, such as limo, grand villas and even private jets and luxury yachts.
At the same time, they will pay more attention to the enjoyable experience obtained in the course of consumption, not just focus on the product itself.
The "new generation of luxury buyers", who born in the 1980s, constitute another major group of luxury consumers in China. The majority of them were white-collar workers. They are young, often live in central or large cities and are extremely sensitive to luxury brands and information about the fashion industry across the world. But they do not have a strong economic strength to support their consumption. Therefore, most of the products they buy are those entry-level luxury products.
The above analysis shows that, at present in China, in different consumer groups, consumption of luxury products in China is and will keep on showing signs of differentiation.
2.4 Chinese Luxury Consumer's Psychology Is Closely Integrated with Traditional Chinese Culture
Many researchers have reached consensus that in China, luxury consumer's psychology is deeply influenced by traditional Chinese culture. This paper argues that the culture dynamics that influencing the consumption motivation of luxury consumers in China come mainly from the sense of hierarchy and collectivism that is highly dependent on the organization rooted in Chinese traditional culture.
Currently in China, for most of affluent people, although they do have individual access to a ocean of material wealth, they do not have clear title and administrative positions. Therefore, through buying the luxury products whose price is far beyond the reach of the average people, they can, on the one hand, show their distinguished status beyond the general, and on the other hand, promote themselves to the outside world as successful persons who belong to the upper social class.
Young white-collar workers constitute another major consumer group of luxury products. One of the major characteristics of this group is that they strive to make their consumption behavior to be synchronized with other members of this group and the international trend. They spend a large proportion of their income on purchasing luxuries in order to catch up with the latest fashions. Their main motivation is to maintain their consumer behavior to be consistent with other members of this group. Through buying luxury products that is popular among this group, they want to prove that they are members of that group, too.
Through empirical researches Tsai confirmed that luxury consumers in Western countries can obtain values in four aspects: (1) self-pleasure, it refers to the enjoyable experience from using the products, which is all about self-satisfaction and has nothing to do with the expectations of others; (2) giving gifts to oneself, through the purchase of expensive items, they tried to manage their own emotion; (3) self-approval and sense of identity, which refers to that consumers may find a product or brand has something in common with their self-perception. Therefore, they will buy the product. (4) Quality assurance. It refers to that consumers will pursue products of excellent quality or unique design.
Through the above comparisons and analyses, we can see that luxury consumers in western countries buy those products mainly to satisfy their personal need. Whereas consumers in China, no matter to which group they belong, purchase luxury products mainly because they want to gain other people's approval, which shows the traditional Chinese culture's influence on Chinese consumer's psychology is still very far-reaching.
3 Insights for Luxury Products Marketing in China
(1)The particularity of the Chinese luxury market indicates that the Chinese companies have potential advantages in the marketing of luxury products. So far, compared international enterprises, China's domestic luxury companies are still lagging behind in its managing philosophy, brand development and marketing model. However, as service-providers to local consumers, Chinese enterprises are not total devoid of advantages. Although many international brands have their own designing and marketing system, they are still confronted with great obstacles when making sales to Chinese customers. Only Chinese enterprises which developed in the local social and cultural environment can get a better understanding of Chinese consumers' unique internal demand for luxury products. A very powerful advantage of Chinese luxury companies' is that they have an in-depth understanding of the features of Chinese luxury market, and can explore and correctly interpret special significance of luxury products to Chinese consumers.
(2)We should accurately orient luxury consumers according to their status. Through the above analysis we can see that at present Chinese luxury consumers can be divided into two categories. One group mainly consists of high-end consumers who have strong economic powers. The main purpose of their consumption is to fling their success. Therefore, we should lay emphasis on product' design, high prices and distinctive logos when making sales to this group. The second group is mainly constituted by young white-collar workers. They buy luxury products mainly because they want to keep abreast with consumption behavior of their social group. Besides, they also intend to show their fashionable life-style to the others. Therefore, we should pay attention to promote the idea that the luxury product symbolizes life style and consumer philosophy that were exclusively represented by this group of people.
(3) The marketing of luxury products should highlight the value of the product. As has been mentioned above, the main purpose of Chinese luxury consumers is to show their superiority in the social class. Therefore, companies should be able to launch marketing activities that can reflect social class, using prominent logos to fill their products with more symbolic value of wealth and to meet the psychological needs of luxury consumers. To this end, companies should adopt a limited-edition production method, set proper price to the products, and limit the products' distribution channels and media publicity, in order to create a sense of scarcity and nobility for the luxury products, distinguishing them from the ordinary products.
(4) We should strengthen the role played by cultural factors in the marketing of luxury products. In the above analysis of the characteristics of the luxury market, we can see that in the process of buying luxury goods, consumers have attached their emotional needs and cultural aspirations to the products. Therefore, almost all of the world's luxury brands will stress that their products contain a rich cultural connotations when making publicity for their brand. China has a time-honored history and culture heritages, many of which have great commercial value for development. Therefore, during the marketing of luxury goods, the operators should be conscious of integrating these cultural elements into the company's product design and branding, giving luxury products a unique cultural significance. This is of great importance not only to enhance the brand value of luxury products, but also to better Chinese consumers' understanding of luxury products.
The ultimate goal of the luxury market analysis is to help with China's domestic luxury brands' access to the broader market. There are several things we should take note of. Firstly, the production and consumption of luxury goods contain a huge profit margin. And now these profits have largely been monopolized by foreign enterprises. Secondly, luxury brands often have a "leading" and "flagship" status in the industry, playing an important role as a leader in the industry. Therefore, one important way to enhance the international competitiveness and influence of our manufacturing products is to foster China's own luxury brand and high-end consumer products. Based on the above considerations, we can reach the conclusion that it is very necessary for us to make in-depth analysis of consumption characteristics of China's luxury market in order to provide references and basis for domestic companies to adopt in their luxury production and management.
Related posts