Chinapay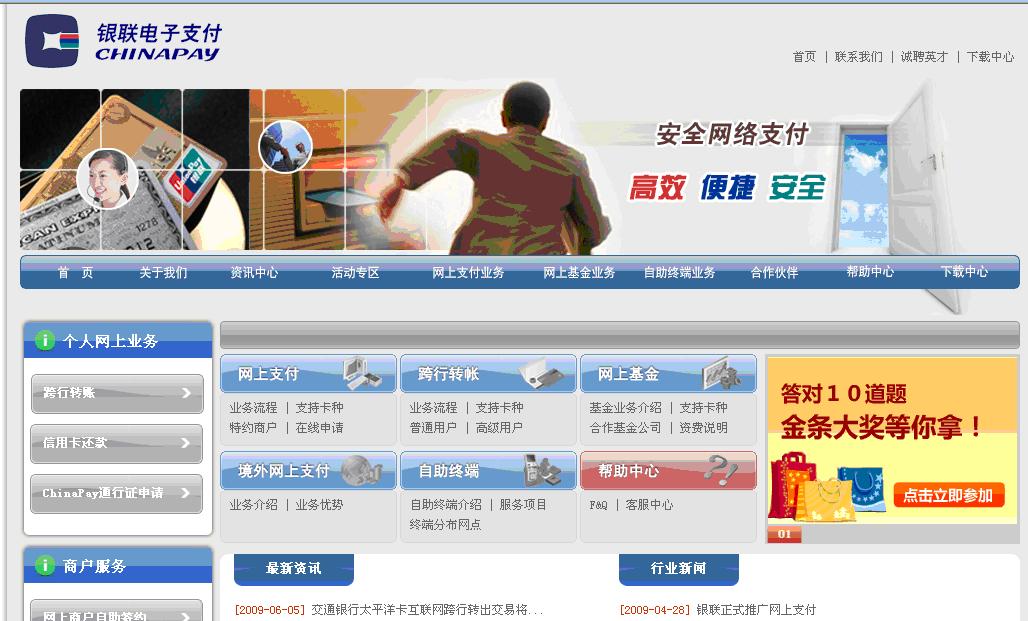 Brief introduction
ChinaPay is the online payment subsidiary of China UnionPay (CUP), China's government-backed inter-bank transfer network and credit card issuer. Founded in 2000, ChinaPay's seven years of operation make it one of the industry's elder statesman. Leveraging the financial and marketing support of its parent company, ChinaPay provides online payments, banking, and brokerage services, as well as offline bill payment and POS terminals. Chinapay is the third largest online payment company in China.
Name: Chinapay
Company: Shanghai Chinapay electronic payment Co.,Ltd 
Private or public: State run
Address: RM1901-1905, No.2299, YanAn Road(W), ShanghaiMart Tower, Shanghai P.R.China
Contact information: Tel: (86-021)52504528 Fax: (86-021)62361165
User base: 33 million
Market share: 7.6%
According to third party payment market analysis report by Analysys, Chinapay's market share has reached 7.6% in the first quarter of 2009[1].
Chinapay rank No. 3 in China online payment market, compared with 51.2% market share of Alipay and 20.5% of Tenpay. According to quarterly comparison chart of China major third-party payment companies between Q1 of 2006 to Q1 of 2009 by iresearch, Chinapay's market share has decreased slightly in the past 3 years.
Growth rate: 5%
Competition: Alipay, Tenpay, 99bill, Soopay, Yeepay, IPS, Paypal
Relevant news stories 
AsiaPay Limited, a leading provider of advanced electronic payment service, solution and technology in Asia, has entered cooperation agreement with ChinaPay to enable AsiaPay's merchants in Asia to readily collect online real-time payment from Chinese consumers.
IHG signed an exclusive two-year agreement with ChinaPay, an online payment subsidiary of China Union Pay. This new service is now available at IHG hotels across China including InterContinental Hotels & Resorts, Crowne Plaza Hotels & Resorts and Holiday Inn Hotels & Resorts.
---
[1]
According to http://news.xinhuanet.com/it/2009-06/14/content_11540340.htm
Related posts