Kingsoft anti virus software(Beijing Kingsoft corporation)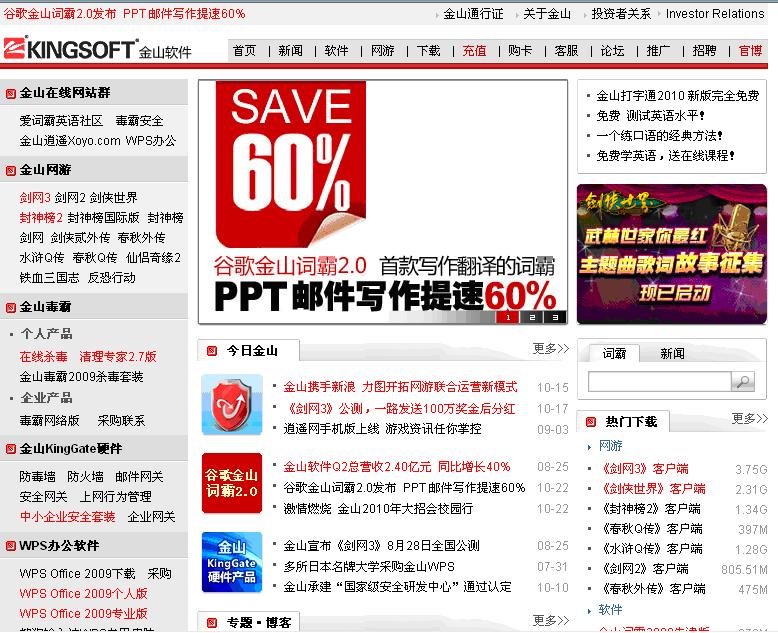 Brief introduction
Kingsoft commercially launched its first office applications software WPS 1.0 in 1989. Kingsoft is one of the most prominent software companies in China. Kingsoft is an innovative technology company focused on user productivity and entertainment experience. With its headquarter in Beijing, Kingsoft has four research and development centers based in Zhuhai, Beijing, Chengdu, and Dalian. In 2005, the company expanded into the Japanese market through Kingsoft Japan, a joint venture company. Kingsoft offers a variety of software and services including office software, information security, and online games. The company has several well-known products on the market such as WPS, Kingsoft Power Word, Kingsoft Antivirus, and online games such as "JX Series" and "The First Myth". In addition, Kingsoft has set up some of China's largest online communities, including the most popular domestic online English learning website www.iciba.com and the online games website www.xoyo.com.
Kingsoft Corporation Limited was listed on the HKEx on Oct 9th, 2007. (stock code: 3888)
Name: Kingsoft
Company: Kingsoft
Private or public traded: Listed on Hong Kong Stock Exchange
Address: Kingsoft building No.33 Xiaoyingxi Road Haiding district Beijing China
Contact information: Tel : (86-10)-82334488 Fax : (86-10)-82325655
User base: 84 million[1]
Revenue: $130 million including $30 million from antivirus software[2]
Market share: 15%
User growth rate: 70%[3]
Revenue growth rate: 81%[4]
Competition: Rising, Kaspersky, Jiangmin.
Relevant news stories
Kingsoft HKEX IPO[5] (2007)
Kingsoft Corporation announced that it has raised HK$768 million (US$99 million) from its Hong Kong IPO after fixing the price at the top of the range. Industry analysts ascribe to the bullish market the performance of the online game and software developer, with the offering happening with the surging of the Hang Seng Index. Sources said more than 200 institutional investors participated in the deal even though the institutional order book closed a day ahead of schedule. The deal was jointly arranged by Deutsche Bank and Lehman Brothers.
Kingsoft invested $150 million to build its headquarters[6]
Kingsoft plans to invest CNY1 billion to build a 96,000-square-meter headquarters and research center in Zhuhai, Guangdong province.
Li Mei, an administrator at Kingsoft, says that the company's current office site is not able to support the development of the company. Lei Jun, vice chairman of Kingsoft, says the revenue of Kingsoft is expected to reach over CNY1 billion in the next three years and the number of its employees will increase to 5,000. Kingsoft currently has more than 2,000 employees.
According to Kingsoft, the new software park, which will mainly focus on software development, overseas business expansion, training and customer service, will be completed in three to five years. In addition, the online game and anime center planned in the new software park will become a development center, technology development platform and manufacturing and processing factory for online game and anime products.
---
[1]
According to http://www.kingsoft.com/news/compnews/2009/04/01/133664.shtml
[2] According to http://www.kingsoft.com/news/compnews/2009/04/01/133664.shtml
[3] According to http://www.kingsoft.com/news/compnews/2009/04/01/133664.shtml
[4] According to http://www.kingsoft.com/news/compnews/2009/04/01/133664.shtml
[5] According to http://seekingalpha.com/article/49302-chinese-tech-stock-weekly-summary
[6] According to the news http://www.chinasourcingnews.com/2009/01/16/01953-kingsoft-earmarks-cny1-billion-to-build-headquarters-in-zhuhai/
Related posts