Tenpay(财富通)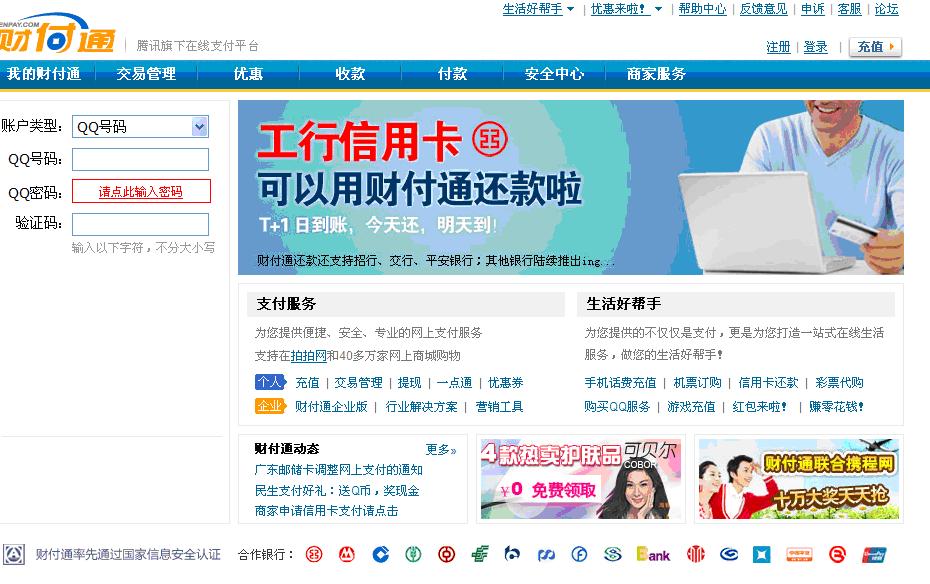 Brief introduction
Tenpay is the main competitor of Alipay. Tenpay is developed by Tencent which owns the most popular IM in China – QQ with more than 300 million users.
More than 200,000 shopping websites accept Tenpay. Tenpay is compatible with the e-banking service of major domestic bank. Users can use Tenpay to send payment, receive payment and withdraw money to bank account. Users can also use Tenpay to charge mobile, deposit money to game account, and buy air ticket. Tenpay also provides an excellent payment platform to corporate users, covering B2B, B2C and C2C areas.
Name: Tenpay
Company: Tencent 
Private or public traded: Public
Address: No. 478 Wenshan Road Hangzhou city P.R.C
Contact information: Tel: 0571-26888888 Fax: 0571-88157868 
User base:78 million
Market share: 20.5%
According to third party payment market analysis report by Analysys, Tenpay's market share has reached 20.5% in the first quarter of 2009[1].
Tenpay ranks No. 2 in China online payment market, compared with 51.2% market share of Alipay, the industry leader.
According to quarterly comparison chart of China major third-party payment companies between Q1 of 2006 to Q1 of 2009 by iresearch, Tenpay's market share has grown from 10% in Q1, 2006 to 20.5% in Q1, 2009. In short 3 years, Tenpay's market share has increased 10.5%, compared with 21.2% market share increase by Alipay in past 3 years.
However, in Q1 2009, Tenpay's market share has increased 1.3% while its main competitor Alipay has only increased 0.3%.
Growth rate: 10.5%
Competition: Alipay, Chinapay, 99bill, Soopay, Yeepay, IPS, Paypal
---
[1]
According to http://news.xinhuanet.com/it/2009-06/14/content_11540340.htm
Related posts