Top 10 B2B ecommerce websites in China
B2B ecommerce websites exceed 5000 in China
According to the report entitled " The research of Chinese ecommerce between 1997 and 2009" released by China B2B research center, By the end of June 2009, the number of Chinese ecommerce websites has reached 12,282, including 5320 B2B ecommerce website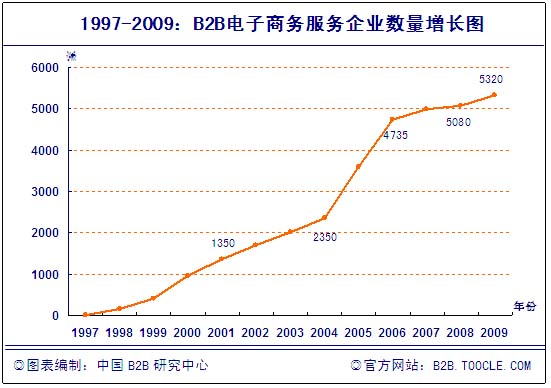 China B2B website annual growth rate from 1997 to 2009
According to the report, in 1997, China only had a few ecommerce service provider, within 12 year explosive development, the Ecommerce in China is booming now.
Among the ecommerce websites, B2B trade portals are most popular ecommerce application to vast majority small and medium size companies in China(SME).
The research shows, Chinese B2B ecommerce sites has witnessed a 8-year-streak double figure increase, the number of B2B trade portals has increased from 4500 to 5100 in 2008 alone.
China Top 10 B2B websites
1. www.alibaba.com
2. www.hc360.com
3. www.made-in-china.com
4. www.globalsources.com
5. www.tootoo.com
6. www.diytrade.com
7. www.china.com
8. www.yidaba.com
9. www.unsbiz.com
10. www.mysteel.com
Related posts