Will 360buy become the leader of Chinese B2C market?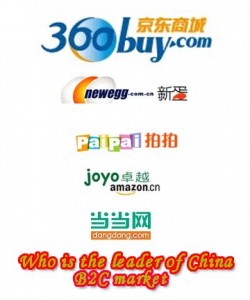 Founded in 2007, 360buy has enjoyed a growing business. Only based upon the sales figure, 360buy is poised to surpass the Dangdang and Joyo/Amazon to become the No. 1 leader of B2C market. This is the rapid development era of e-business. It suffices to say that none of the current statuses of e-business is for a mature market. After a racing course period of e-business, will 360buy become the No. 1 leader of B2C market? We shall start our talk by discussing two major winning advantages of 360buy.
Low prices
As explained Mr. Li Guo-qing of Dangdang, the price war is a winning strategy of B2C. It is especially true in the field of online shopping. Ever since its beginning, 360buy raised a high profile by offering low price to attract the users. Its prices were lower than those of Gome, Suning. The brand merchants allow no price reduction, but 360buy give out discount coupons. A large variety of promotion schemes combine to enable 360buy to have a greater price appeal.
Such a measure of 360buy has attracted a large number of users. Also the brand merchants are forced to adjust their channel strategies to face the market changes. After market cultivation for several years, the brand merchants have accumulated a lot of experiences. The phenomena of different prices online versus offline and among various channels are getting rarer. In the foreseeable future, the usage frequency of a price strategy will become less and less.
And as judged from various news releases and tabloid reports, 360buy has a shaky relationship with the brand merchants. Now and then, the brand merchants issued statements that no one could guarantee all 360buy goods were authentic. As a result, the rates of missing items on 360buy.com stay quite high. Currently the channel systems of brand merchants have remained cluttered. Even after a period of adjustment, 360buy is ill-prepared to cooperate productively with the brand merchants so as to maintain a rock-solid excellent relationship with the suppliers.
360buy stated that the reasons for a low price had to do with a low purchasing price and a rapid turnover rate. As claimed by Liu Qiang-dong, the turnover rate of 360buy was only 12 days. It was significantly lower than that of Gome at 45 days. The turnover rate is strongly correlated with the capacities of IT system.
In term of IT system, CNNIC analyst Sun Xiu-xiu holds the opinion that 360buy can not reach the level of Amazon since it has only 3 year's experiences. But after the grafting of American Amazon system onto a Chinese website, it is difficult to gauge the performance of the subsidiary Joyo / Amazon. Assume the American Amazon has attached a sufficient amount of importance to the Chinese market. With regards to IT system, the level of 360buy will never surpass that of Joyo / Amazon. At the very least, the latter has a strong competitive edge.

Services
Many 360buy lovers compare it to a child bumping forward. This is because that, despite a high growth rate, it has a lot of negative press coverage. Currently the greatest shining spot of 360buy services is its fast speed of goods delivery. As indicated by its 211 Service Initiative, it adds another proof that 360buy intends to employ the second core competitive point, i.e. speed. But beyond these two, 360buy offers virtually no other recommendable services.
The case of Newegg.com is similar. But the services of Newegg are more complete and detail-oriented than those of 360buy. Newegg is famous for not only its rapid delivery of goods but also its no-detail-too-small services. A good example is unconditional return of goods. Currently it is impossible for 360buy since its system and staffs have worked under a heavy pressure of sales volume.
Currently Joyo/Amazon and Redbaby, etc. have established their own logistic centers. And the speed of goods delivery is getting faster and faster for each website. It is forecast that the speed will not be an advantage in the future.
Thanks to these two major advantages of 360buy, many users are complaining loudly and yet remain loyal to it.
Nowadays every B2C website is expanding the product lines and creating an all-inclusive commodity website to become a Chinese Amazon. The product categories expand from books, A-V materials, maternal & baby supplies to Class 3C goods. The charge per customer transaction increases greatly. It is not true vice versa. In comparison with competitors, 360buy is at an obvious disadvantage.
The above two advantages are likely to disappear in the market environment. 360buy needs more competitive edges to survive. For example, its IT system becomes capable enough to provide information solutions for other enterprises; Providing cloud computing solutions; Many cooperative partners; Starting to sell proprietary goods similar to kindle of US Amazon, etc. Whether 360buy becomes a No. 1 market leader in the future will depend upon how fast it transforms itself. At the very least, if the current status continues, the competing advantages will become weaker and weaker.
Related Resource:
Top China B2B ecommerce websites
Related posts