10 public secrets: Hotel online marketing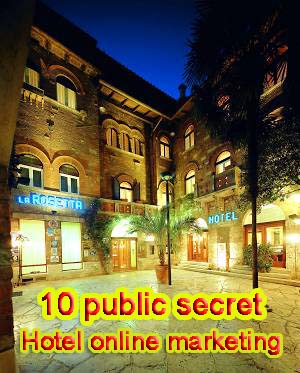 Arguably, the sales increase from online marketing for hotel industry will continue in 2010. Using effective online marketing strategy to promote brand and products to end customers become a must have skill for hotel management staffs. The 10 public secrets of online marketing in hotel industry are based on the in-depth research of user behavior and market, which could be used as guideline on how to develop a successful online marketing strategy in China.
1. Excellent website structure and content
As internet service provider, you should be aware that the internet is developing and changing faster than you could imagine. You should learn that the website interface people like, their reading and clicking habit are different from the past.
People will get fed of an outdated website built 5 or even 2 years ago.
You need to add comment, blog, picture sharing, microblog function to your website apart from reservation system. Like it or not, everybody is doing web 2.0. You will need to follow those trends closely to keep your website fresh or the users will dump you.
2. Optimized reservation system
Search, order confirmation, payment methods etc are basic for reservation system. Most big travel websites have developed optimized reservation system. Where your reservation system are convenient enough for your registered users and unregistered users, determine the conversion rate of your website.
3、SEO
According to research, search volume related with travel has increased by 40% in 2009, among which, 79% clicks go to the top 3 ranking websites. Organic results have a much higher ROI than paid search engine marketing.
Killer original website, keyword layout, site map, regular update, quality link partner, search engine submission are something you must be familiar with.
You need to hire a professional SEO expert.
4、Publicity on social media
Famous foreign social media site like facebook and twitter don't necessarily suit Chinese companies. Instead, the microblog of Sina, Douban and other blogging site have huge users base, those are perfect social medias to launch marketing campaign.
You need to create cool stuff that people like to share.
5、Vertical search engine
According to a research by Forrester research, 69% people reserve room directly from hotel official website, only 27% choose to reserve from agents or middle man. Users trust official hotel website more than other websites.
So you need to develop a functional search solution on your website.