Search marketing drives a breakthrough in e-commerce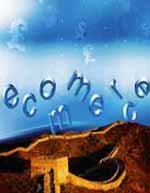 As the first to recover from a global financial downturn, the Chinese economy has once again demonstrated its strong development momentum. According to the data released recently by National Bureau of Statistics (NBS), the domestic GDP of the first quarter was registered at RMB 8.0577 trillion Yuan and it represented a year-on-year growth of 11.9% over the last year. As one of the most dynamic economic sectors, the overall trading volume of Chinese e-commerce market is going to reach 10.1527 billion Yuan. Thus the rapidest development phase of e-commerce in recent history has arrived.
E-commerce booming in China
As indicated by the Q1 domestic economic data released by NBS, in comparison with 2009, all economic indices in China had a greater growth. Among which, the performance of e-commerce market was particularly outstanding. And the Q1 trading volume had surpassed the mark of a trillion yuan. With the highest ratio of 52.6%, the traditional B2B e-commerce trading volume had become the largest contributing class I market segment.
The data from another source showed that, up to December 2009, the number of Chinese online shopping customers had surpassed 130 million. And the total count of e-commerce websites above the national level reached 17,500. The trading volume of e-commerce market hit 3.54 trillion Yuan. It is predicated that, by the end of 2010, the total trading volume of e-commerce market is likely to reach 10 trillion yuan. All these figures have clearly demonstrated that the era of e-commerce has already arrived.
With the continuously rising popularity of Internet application and the gradual formation of online shopping among the consumers in China, e-commerce has become an important marketing strategy for more and more enterprises. Someone even held the opinion that, if e-commerce is non-existent, the potential effect on a certain enterprise is perhaps lethal in the near future. As a result, more and more enterprises, including medium and small-sized ones and even many internationally and domestically renowned ones, have established their virtual identities. And some innovative marketing platforms, such as search engine, are devoted to the e-commerce transactions of the enterprises with a remarkable success.