The best Chinese online marketing tool ever – meta.cn
As an online marketer, we spend lots of time in keyword research, website ranking check, backlink check and analysis and things. The Chinese online marketing industry is not as mature as it is in country like U.S, we don't have many outstanding online marketing tools to use, which is really a big headache.
But when I came across meta search on Sina microblog, I know we finally have a tool that can make our Chinese online marketer lives easier. Let me repeat again here: Meta.cn don't pay me commission to advertise, they are just cool, and free.
What we can do with meta.cn?
I like the design of meta.cn, simple and classic. There are two tabs to choose from on the top of search bar: keywords and webpage.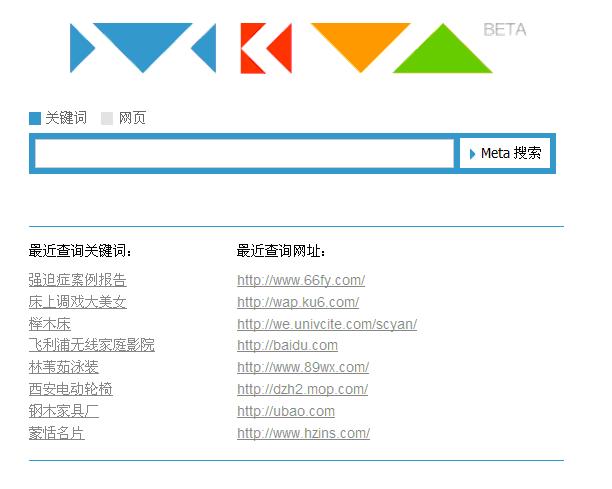 On keywords tablet, the most useful functions are rank check and search volume suggestion.
Rank check feature will show top 30 search results on baidu and google.cn, on the right side of each search result, it will show the ranking result of that website in other major Chinese search engine, such as yahoo.cn, soso.com, youdao.com, and bing.cn, this feature is just like the rank checker of SEOBook, as far as I know, this is the first Chinese rank checker tool.
The search volume and related keywords search volume are very useful for keyword research, it shows the search volume of all Chinese search engine on one page, very convenient. This can be used as supplementary method to research Chinese keyword, aside from the keyword research tools we recommended.
On webpage tablet, you can search and analyse the ranking, back link(incoming link), outbound link, anchor word of certain website. The integration of all these functions are very powerful.
For more information about meta.cn:
Related posts