Google Search's Market Share in China Dropped from 30 % to 18%
The latest statistics of IResearch shows that Google Search's Market Share in China dropped from 30 % to 18%.
According to the 2011 3rd Quarters' Chinese Search Engine Market Statistics published by, 2011, compared with the 2nd Quarter, in the 3rd Quarter of 2011 Google's market share in China is only 18.3%, dropped by 1.0%, whereas all the other search engines(such as Baidu, Sougo, and Soso) saw varying degrees of rise in their market shares. With a 77.7% market share, Baidu maintained its competitive edge in the market. Whereas
The statistics also shows that since 2010 Google's market share has dropped from 29.5% to 18.3%, down by 11%, while that of Baidu increased from 67.8 to 77.7%, up by approximately 10%.
Before, report has it that compared with google, the Sogo search engine is more frequently used in China, but the statistics proved otherwise: with a 2.1% market share, Sogo is left far behind Baidu and Google, securing only the third place in the rank.
Changes in the Market Share of Major Search Engines in China (from 2010Q1-2011Q3)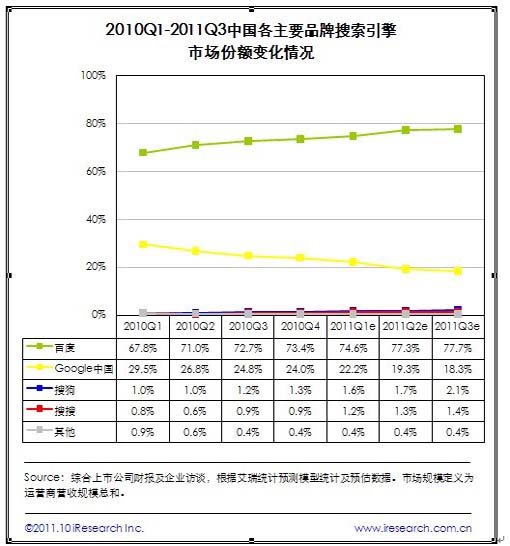 Source: In consideration of the financial reports of the listed companies and corporation interviews, and in accordance with the statistics and forecast data provided by the IResearch statistical and forecasting model, the Market Scale is defined as the operator's total revenue.