Sogou Market Share Surpass Google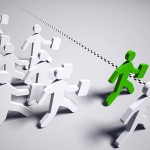 Sogou under Sohu, the Chinese Internet Company, quoted data from an analyzing institute claiming that its market share of online search engine had overtaken GoogleChina for the first time and became the second popular search engine in China.
It said that as data from CNZZ an Internet data analyzing service provider in China showed, up to September 30, market share of Sogou was 7.09% by frequency while Google China was 6.51%, and Baidu still held the first place steadily with 78.98% market share.
Last year, Sohu separated its Sogou business that had been run for many years to an independent company. The core products of Sogou include online searching, browser and input software, while searching engine is its main source of income. Sogou Search provides several vertical searching and local searching services such as maps, shopping, music and pictures. And it has established a cooperation relationship with Taobao.com of Alibaba Group.
Wang Xiaochuan, Sogou's CEO has expressed in July this year when giving interview to Reuters that Sogou's fourth quarter income is expected to exceed 20 million dollars and the company will realize profitability. He said at that time that the company's goal is to overtake GoogleChina in one year.
Google has shut down the inland searching service Google.cn last year and started leading users to itsHong Kongwebsites which is not screened. Then the market structure of inlandChinachanged from two giant companies competing into one company Baidu owning the whole market.